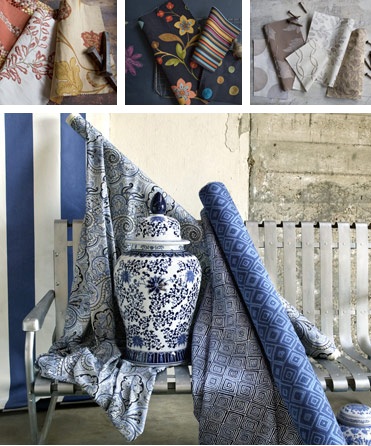 Products for Today & Tomorrow

THE FASHION OF FABRIC
Every day, we have our finger on the pulse of the home fashion industry. At Kasmir Fabrics + Furnishings, our design team keeps abreast of emerging design trends from around the world enabling us to provide the finest in today's fabrics and custom-made products.
Our fabrics range from traditional to transitional to contemporary stylings. We offer prints, wovens, sheers, silks, embroideries, velvets, solids and textures. Fabrics are multipurpose with applications for drapery, bedding, upholstery and more, as well as indoor/outdoor for performance uses. We also carry commercial fabrics when high abrasion and flame retardancy are required.
We understand that design trends have to span a wide range of project types and price points. Kasmir offers distinct product lines to serve the needs of a wide range of customers and design needs. Our Fabrics + Furnishings line offers exceptional fabrics, hardware and trimmings to the marketplace. Kasmir Concepts offers customers a full line of quality fabrics and trims with an eye toward value. 

Kasmir's Fabrics + Furnishings line offers exclusive products to designers across the globe. The Fabrics + Furnishings line of distinctive home fashions features natural fibers in prints, wovens and embroideries in a wide variety of today's styles and trends. For the finishing touch, Kasmir's decorative hardware collections offer the best in metal, wood and organic hardware.  Kasmir rounds out the product line with our exclusive Tommy Bahama collection of performance fabrics.

Exceptional value. Exceptional style.
The Kasmir Concepts line offers the latest home fashion trends and colorations all without compromise at price points your customers will love.